Facebook Ads We Love + 7 Optimization Rules to Steal For Your Ecommerce Brand
By Courtney Johnson, Digital Specialist, Metric Digital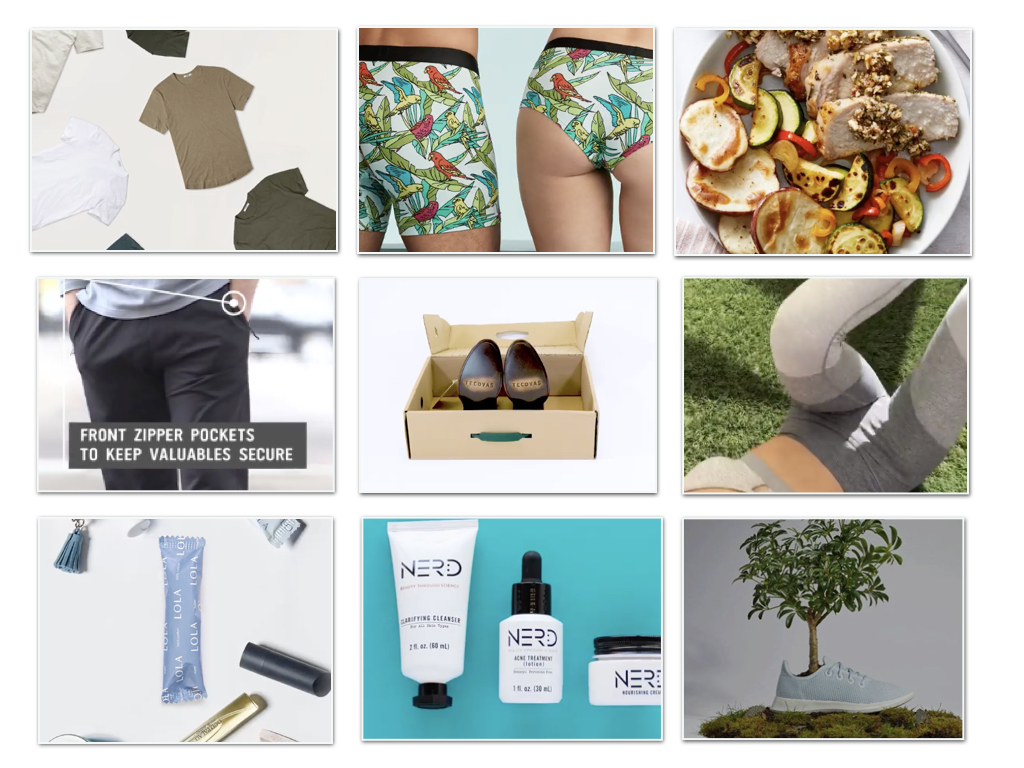 We eat, sleep and breathe ads.
As digital marketers, part of our job is to flood our brains with compelling examples of effective (and not so effective) advertising. Creative strategy is an inspiring addition to our regular client conversations centered on metrics and performance. We collect ads to stay on top of emerging creative trends, and ensure we're always ahead of the game when it comes to digital advertising.
In this post, we feature a series of Facebook Ads that impressed, inspired and intrigued us (and in some cases, made us click). We also share several best practices to steal for your next campaign. Enjoy!

Policy Genius
America's #1 independent online insurance marketplace
This ad is visually unique and eye-catching. The combination of digital and real life elements is appealing because it's different than the ads we typically see on social media. The ad also clearly explains what's being advertised. PolicyGenius: Compare life insurance online. Boom. No confusion or guesswork necessary.

Does your copywriting have clarity, brevity and differentiation?
Lola

100% organic cotton tampons delivered directly to your door.

This is a creative concept I love, and recommend to clients who don't have a huge creative budget. Showing a product across changing backgrounds is an easy, fast, and affordable way to create movement without using video. LOLA uses static images and still manages to create a creative, eye-catching ad. The changing background also sends a clear message: women can go anywhere with this item.
Do your product shots experiment with interesting angles, backgrounds and environments?
Public Rec
Men's modern leisure apparel that fits
Using stars for reviews is one creative way to incorporate social proof. The callout boxes with product features is a great way to highlight the value propositions of the product. A simple collection of product videos is immediately enhanced with some basic text overlay. This diagram style reinforces the unique selling proposition of the apparel.
Do your ads have public relations quotes and customer testimonials to reinforce social proof?
Third Love
Bras, underwear, loungewear and nightwear with custom sizing
I find myself constantly saving ThirdLove ads to my collection. This ad, similar to the LOLA ad we featured, takes otherwise boring product shots, and creates a fun video out of them. This is a simple and easy way of showcasing different styles of products to reach a diverse set of customers. They also incorporate packaging/unboxing - a popular trend to engage viewers and reinforce the brand aesthetic.
Are you sure your product story is told well on a small screen?
Outdoor Voices
Recreational active wear for doing things daily
Outdoor Voices uses short clips of only three seconds, but still gets the point across. What is a customer looking for in active wear? They're probably looking to be able to move freely and comfortably. These three videos effectively demonstrate the value of their comfortable, moisture-wicking active wear. The videos are fun and keep users entertained while clearly showing the versatility of the product. A striking landscape and background adds texture to an otherwise basic product video.

Do you have mixed carousels that allow viewers to browse through your product list?
Buck Mason
Men's clothing maker specializing in effortless chic
Here we have another simple slideshow made from product shots. I can't stress enough how simple and easy it is to incorporate movement without high production costs. The ad also wraps up with strong social proof from a relevant magazine, which reinforces the quality of something commoditized like a shirt. Even a basic t-shirt can become a premier product with the right ad.
Allbirds
It's conceptual. It's bizarre. It's striking. It's artistic. You don't know why the tree is coming out of the shoe, but you don't care. You almost have to watch this ad five or ten times to really appreciate. And that's the beauty. Since it's only a few seconds, it's compelling to watch over and over. Wouldn't work for every product at every stage of the funnel, but, well, there's just something about this one.
Nerd
Unboxing is a simple, three dimensional and trendy way to set expectations around what customers get when they order this product. Again, without high production cost. Anyone could take these photos in about twenty minutes. Intriguing ads don't require thousands of dollars. This is a perfect example of getting aesthetic mileage out of minimal effort.
Are you front loading the video with attention grabbing content to ensure clicks instead of scrolls?
MeUndies
This slideshow is playful and attractive, and it's hard to look away. MeUndies has definitely been killing the creative testing game. This ad is purely a creative and aesthetic ad, which doesn't focus on the value proposition. And that's okay. It's common to run more educational ads at the top of the funnel, where brands introduce themselves to customers and let them know what they're all about. Once customers are more familiar, brands can retarget them with this kind of aesthetic and eye catching ad to remind them of the brand they love (and push them down the funnel).
Do your lifestyle shots show the product front and center?
Tecovas
Tecovas takes the unboxing and stop-motion concepts to the next level with this ad. These boots are made for walking, and that's just what they'll do. The ad speaks to just how much people shop online and gives customers some experience of shopping at a store, feeling special. You also know exactly what's showing up at your door. No surprises. It's a low resistance kind of ad. Videos with too much context lose attention fast.

Are your videos digestible and straightforward, or trying to do too much in one ad?
Before you run your next Facebook ad campaign, make sure your digital marketing strategy incorporates (at least a few of) these optimization rules:
1. Write clear, concise, unique copy

2. Use diverse visual backgrounds and angles
3. Leverage social proof from PR mentions and reviews
4. Think big, but for the small screen
5. Add texture, motion and depth to commodity products
6. Save production costs by being scrappy with photo assets
7. Sell your product in three dimensions so tactile expectations are fulfilled
We'll be back soon with more examples of ads we like (or don't like), along with insights to help your e-commerce brand drive more conversions.