Performance Marketing For Fintech Startups, Part 2: Paid Social Strategies & Tactics For Scaling
By Steve Geick, Account Supervisor, Metric Digital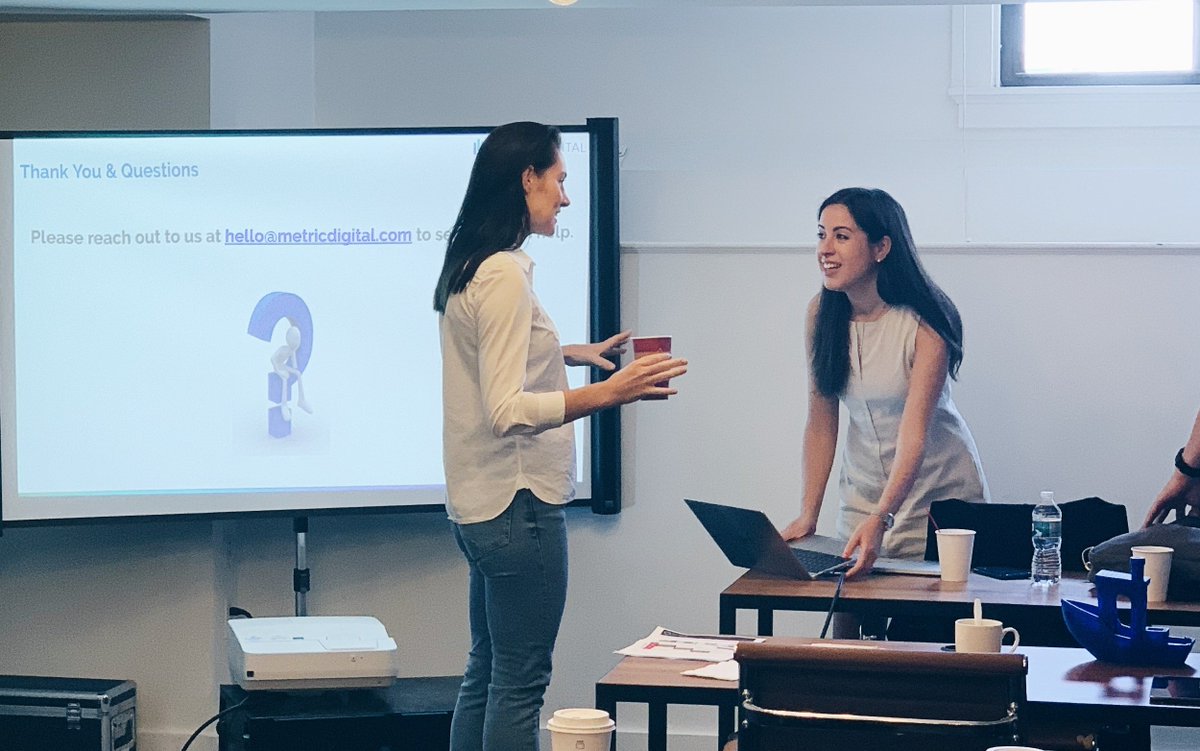 What works on paid social
Why should your brand leverage paid social? Consumers are continuing to spend a lot of time and have personal relationships with their social platforms, and if brands can build the right narrative and play a role in their lives, they can achieve conversion success. Facebook in particular is where businesses are seeing much of their conversion success and is where they're spending the bulk of their marketing dollars. Below we'll review some best practices from our experience driving results across our portfolio of clients.
Looking at ad creative
Creative is one important element in fueling success on paid social. The challenge is, it's hard to generalize what works well for creative as it really depends on the brand and ultimately requires testing. There are, however, best practices you can follow.
Here are several ads within the fintech vertical that we'll unpack.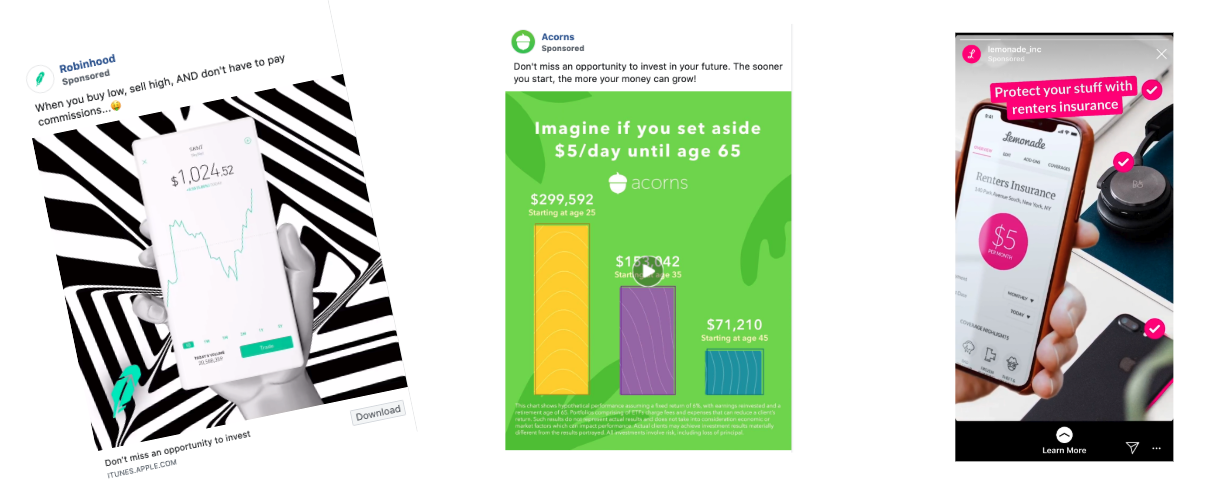 Robinhood, the free trading app
This ad is geared towards driving app downloads. The call to action is clear in the copy and is reinforced in the imagery as it showcases the app itself. The ad feels a bit more polished and relies heavily on whitespace and crystal clear digital imagery, which is consistent with their brand messaging. It also uses emojis, keeping it light and conversational.
Acorns, the micro investing platform
This gif ad (versus Robinhood's link post) is the most data centric of all our examples, and it's a powerful way to entice buyers to think about their financial future. The hypothetical performance model emits urgency, compelling users to invest now or risk losing returns down the road. Also, the movement within the GIF and the pop of color can capture the prospect's attention when scrolling through quickly on their mobile device.
Lemonade, the home insurance app
This is an Instagram Story, which leverages video to capture consumers in a place where they're continuing to spend more time. It does a great job of feeling native to the stories platform; you'll notice for instance that they use organic looking fonts. It was clearly designed for mobile as it takes up the whole screen and a lot of the text is positioned to the left since most people click through using their right thumb.
Structure/Bidding
In addition to creative, setting your campaigns up with the proper bidding structure is critical to achieving success on Facebook. One approach is to use cost control bidding, which is a method of telling Facebook how much the company wants to pay to acquire a customer. Over time, if you drive up your bids, you get more delivery and you can potentially drive more sales at a cost efficient rate.
There's also what is called lowest cost without a bid cap. It's a method that is common for brands to use in the beginning. You're not specifying a bid cap, you're just giving Facebook the budget and you're telling it to get you as many conversions as it can within that budget. Later on down the road, you layer in your bids. But this is a method for trying to get as many conversions under your belt as possible.
Targeting
Another key consideration with respect to driving performance on Facebook and Instagram is targeting. We've seen broad audiences work well across a number of brands in driving conversions. Broad audiences allow Facebook to take advantage of machine learning by allowing the algorithm room to figure out who is most likely to convert. The more hyper targeted brands get with your audience building, the more difficult it becomes for the algorithm to discover an unexpected low cost conversion.
Often times when we're auditing an account for a prospective client, we'll see that brands are implementing a high degree of segmentation into their audiences, and we end up driving improvements right away by going a little broader.
Another best practice when it comes to audience building is video retargeting. Facebook can target people based on the percentage of a video that they watched, or by the number of seconds that they watched the video. Especially for fintech brands, which often have a longer consideration cycle, this is a good way to continue to push consumers down the funnel towards converting.
Performance Marketing Principles
There are several principles we like to keep in mind as they relate to setting strategy across digital channels for early stage fintech brands.
First, start with small tests to prove channel viability. It would not be advised to invest all of your budget into Facebook only to find out that perhaps display or direct mail is a more efficient channel for your particular brand and target customer. That said, you need a sizable budget to allow the algorithm to optimize and to get a directional or statistically significant read on results. Starting with small tests across a variety of channels will allow you to establish a baseline for which channels are working and which ones are not. Then you can start optimizing to drive scale in the channels that are working.
This second principle is to focus on direct response and driving conversions in order to make the dollars count. This means brands should optimize towards lower funnel objectives such as conversions rather than upper funnel objectives such as awareness. Additionally, include strong calls to action that reinforce conversion, such as 'sign up.'
Next, continuously a/b test. This is critical. You must be constantly iterating in your channels. For instance, even if you have a champion creative that is working for you, make sure that you're constantly testing new creative to try and beat that champion and avoid ad fatigue down the road. A/b testing also allows you to learn what works well for your brand so that you're optimizing into those learnings.
Fourth, your creative needs to tell a story. You're optimizing for direct response and likely not investing as much (if at all) into brand awareness. Your creative should serve to fill this awareness gap and tell consumers who are likely to convert who your brand is. Make sure when telling your story and value props that the story is consistent across platforms in order to make the key takeaways stick. Additionally, make sure that your story feels native to the platform.
Finally, landing pages should be designed for both desktop and mobile. Our culture is becoming increasingly more mobile oriented, and it's important to make sure your landing pages are optimized for both devices. Several tips to keep in mind when designing. First, focus on writing compelling copy to provoke conversion. Next, make sure to convey more info than what might already be communicated in the ad. Also, place your key information above the fold to drive value as quickly as possible. We work with a number of different agencies that specialize in landing page development, so if you need any recommendations, contact us.
# # #
What other performance marketing questions and challenges would you like to discuss? Email us here. We'd love to talk more about customer acquisition for fintech brands in the digital age.
Also, if you want to learn more about our awesome VentureOut and Tribeca Early Stage Partners, they both offer a wealth of resources to help your company move towards scaling.