The Curiosity Chronicles, Issue 01: What's Working In Performance Marketing Right Now
By Claire Mahon, Associate Digital Specialist, Metric Digital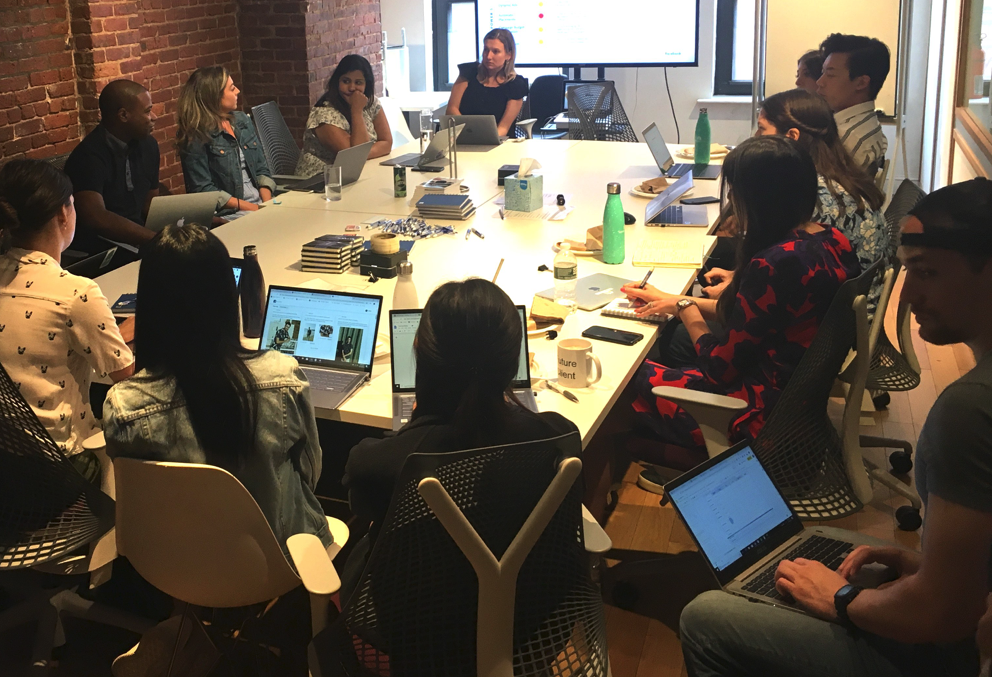 Throughout the month, our teams participate in knowledge sharing sessions.
Together, team members gather to solve client performance issues as well as share successful tests and performance wins. We kick off each meeting by going around the room to offer up our challenges so that we can brainstorm and resolve our issues together, ultimately continuing to grow our internal knowledge base.
It's fast, fun, solution-oriented, and it gives us a chance to flex our curiosity muscles.
Periodically, we'll be compiling many of those performance marketing best practices here on our blog. We want to give you a chance to be a fly on the wall! After all, paid media is our bread and butter, so we're excited to share the latest and greatest in the areas of social, search (and beyond!) to help your company grow.
What's Working On Social (Facebook/Instagram)
Broad targeting. We found an issue across accounts where broad targeting audiences were overspending. To manage this within DPA ads, we found that swapping out ads every month would help the broad targeting ad sets spend less. If this happens to you, one possible solution is to use a 10% discount code and change it out every month.
Video placements. in your ad sets, you don't want a set that has only video ads because you won't be able to show up on the right hand column and other placements. Beware!
Cost caps. We recommend setting the cap higher than what you actually want the CPA to be. For example, set the Cost cap level to 105 when you want it to be 85. Expect that this takes two or more weeks.
The learning phase. Is it a myth? We've seen one ad which exited the learning phase after a single impression. Getting out of the learning phase (where it says it has found sufficient conversions to optimize) actually works well. When you're going to make a drastic change, it's smart to duplicate the campaign, make your changes, and then pause the old one. This resets learning.
Rules + spend. Remember to use rules for new ads when you're worried that they will spend too much. If CPA is > $600 and > x impressions, then turn the ad off. If you're optimizing for conversions, you're not hitting everyone within your audience. The algorithm is serving to the individuals who are likely to convert. It's important to check frequency before raising budgets, because it's wasteful to serve the same ad to an individual 5+ times.
Bid Strategies. Cost Cap hinders spend early on, but let it run for 3-4 weeks, it can pick up more volume. Don't pause after two weeks. Run Bid Cap for short term like promos, sales, etc., as it picks up volume faster.
Lead gen campaigns. Depending on how much wiggle room you have for budget, it might be good to acquire an audience for first LAL. The goal is not only to garner emails you can market to, but the goal is to get 1000 people so you can make LAL. For a new brand launch, you probably shouldn't spend more than $15k/mo. Better to spend less initially, build momentum, then ramp up.
What's Working On Search (Google)


Brand Launch.Expedite your process of whittling down the number of assets you have in remarking and prospecting. Similar to Facebook, try to get to a point to get out of learning phase.
Google Search. Single keyword ad groups have been working well. It's great to show searchers an ad that perfectly aligns with their search term. Dynamic Landing pages work well — landing page by Thesis using a headline to match keyword that we put into UTM helped conversion rate significantly.
What other questions do you have about what's working or not work in performance marketing right now? Send us an email and we'd love to chat.
Until next month, keep your curiosity muscle flexed!
Get our tips straight to your inbox, and start driving revenue today.
Thanks!